I didn't know we were poor. I just knew that growing up in a multi-household of amazing cooks (and bakers) that there were two rules: you never know who may show up famished, so be able to stretch your meal, and never let anyone leave hungry.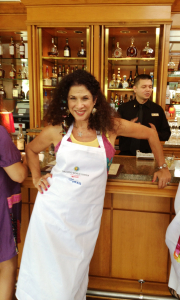 Sometimes I'd walk into my grandma's Coney Island, NY kitchen where she and my Aunt Fanny would be stirring big pots of chicken matzoh ball soup or layering a black-and-white speckled enamelware roasting pan with stuffed cabbage, just in case unexpected relatives and friends happened to pop in… and they always did. The women in my family didn't just cook. They cooked from love with limited budgets and unlimited imagination.
From the time my dad's sister, Aunt Golda, guided me through making my own apple pie tart at the age of five, I have always baked and cooked. I have cookbooks, but mostly I just cook with what ingredients are on hand. I visualize the ingredients melding together, and then set about making that materialize. Between the sumptuous Eastern European dishes created by my mom's and dad's families, and later the exotic influences imprinted upon my mom as we lived and travelled internationally, I grew up experiencing the "throw a bit of this, a dash of that, smell, taste and be sure there is color" philosophy. When my mom returned to work, I was 11 and responsible for choosing what I would cook and then making the family meals.
Over many years, I have won some cooking contests, judged culinary competitions, catered international cuisine (with an Israeli chef), reviewed restaurants, and challenged myself by first asking what my guests enjoy, or would not/cannot eat, and then purposely produce a meal to service those needs. But nowhere has my cooking been more important to me than sharing my love for cooking and baking by teaching others, especially youths.
I've taught cooking as a volunteer in a school.  I've had friends' preschoolers propped up on stools so they could learn to stir, fashion meatballs into somewhat-recognizable shapes, or decorate glazed almond cookies. My daughter Gabrielle's fussy childhood eating habits changed when she gained more control by selecting menu items and helping with preparation. A granddaughter learned her fractions by doubling or tripling recipes. A grandson became a master of herbs when I challenged him to smell and taste the ones I grow, and to then decide what was needed to enhance a salad or an entrée. The granddaughter and grandson learned to imagine flavors when told to create a dressing or to roll out pizza dough and decide what each topping should be. And then there is my 17-year-old niece, Rosalie, who has cooked and baked with me since she was about three, and who has since become a proficient, curious, intrepid cook and baker.
This new column, Cooking From Love, was inspired from a conversation with Rosalie over crunchy rice, a Persian dish I had learned from friends many, many years ago. That day, I had made some crunchy rice influenced by Indian spices and ingredients. I described it to Rosalie as we later chatted on the phone. The next day she texted to say she'd made crunchy rice and how well it had turned out.
Today, on yet another day of being housebound by the COVID-19 virus and cooking to feed a somewhat picky husband, I made a string bean dish that I've not made since he and I have been together these past 23 years. (I have always been one to have a stocked pantry and refrigerator in case I get a sudden whim to cook or bake, so all the ingredients were literally at my fingertips.)
As I was making the dish (which I served with some store-bought ravioli), I thought about my sister Debbie (with whom I have spent many wonderful hours cooking together), Gabrielle (who is an excellent creative cook and party hostess) and of Rosalie, with whom I couldn't wait to share this easy-to-do recipe.
And then I thought:  I'm a writer who has passed time during this shelter-in-place time period by cooking and baking (something different each day) from love for Russ, who freely admits he is spoiled. Maybe I should share some of the simple recipes I create from which others might want to riff?
Qualification:  I don't measure. If a dish comes out the same way twice, it's just luck (much to Russ' dismay when he really enjoys it), but every dish is always to taste – mine, or yours.
Mediterranean-Styled String Beans
Fresh string beans, cut into 2" pieces (I had a small bag). If not fresh, then preferably frozen.
bacon (to taste, but I used maybe three pieces of thick sliced)
½ medium sweet or yellow onion, coarsely chopped
Minced 2 or 3 cloves garlic (how much do you love garlic?)
Red wine (or other flavor) vinegar (splash in carefully, to taste, but maybe 2 tsps)
chopped fresh tomatoes (I used about a dozen grape tomatoes and cut them into thirds.)
3 Tbs oregano (fresh and/or dried, to taste)
salt & pepper to taste
Sautee the bacon til crisp. Remove from pan. When cooled, break into smaller pieces.
On medium heat, throw in the onion to soften and a minute (roughly) later, add the garlic.
When those ingredients look soft (maybe a minute or two), add the tomatoes.
When the tomatoes appear as if they are breaking down a bit (a few minutes, maybe), then add the bacon back in and the string beans.
Add the salt, pepper, red wine vine vinegar (careful not to overdo), and oregano.
Decrease temperature to low. Cover. Cook another 10 minutes roughly for al dente, or longer if you like your veggies softer).
Lift lid. Take a whiff (but don't stick your nose into the pan. Hold it over and to the side). Taste. Add more of whatever you think it needs at that point. (I told you I don't measure. This is your dish to enrich or alter.)
So, there you have it. My first dish in my new Cooking From Love series.
Going forward, I will try to remember to take one or more photos. By the time I finished this dish, my hungry husband was ready to eat, and every bit was gone before I thought about it. Next time. But please, do share with me your version or photos.
Karen Kuzsel is a writer-editor based in the Orlando area who specializes in the hospitality, entertainment, meetings & events industries.  She is an active member of ILEA and MPI and is now serving on the 2019 – 2020 MPI Global Advisory Board for The Meeting Professional Magazine for the fourth consecutive year. She is a member of the Society of Professional Journalists. Karen writes about food & wine, spas, destinations, venues, meetings & events. A career journalist, she has owned magazines, written for newspapers, trade publications, radio and TV. As her alter-ego, Natasha, The Psychic Lady, she is a featured entertainer for corporate and social events. Karen@KarenKuzsel.com; www.KarenKuzsel.com; www.ThePsychicLady.com; @karenkuzsel; @thepsychiclady. Food photos for this series by Karen Kuzsel.