HOT DEALS!
Homesick-branded candles and The Bahamas have teamed up with luxury resort, Caerula Mar Club in Andros, for a four-day, three-night escape package. Enter to win. One lucky winner (and guest) will be randomly drawn on February 28. The package is worth over $2,000.
https://giveaways.dojomojo.com/
Romance is in the air at Pueblo Bonito Pacifica Golf & Spa Resort in Los Cabos, Mexico. Book the four-night stay (minimum) Romance Package by February 25 (but able to use through December 20) and receive amenities such as sparkling wine on arrival, $100 USD credit towards a private dinner on the beach, and a $100 USD credit towards a couples' massage in the Armonia Spa. Want more? Book the resort's Towers at Pacifica, a luxury resort-within-a-resort, and receive enhanced amenities including 24-hour certified Butler service.
https://www.pueblobonito.com/pacifica-2022-promotion.  Promo Code: ROMANCE22.
From cruises to hotels, book Freeport (Bahamas) now and get up to 50% off. Book Bahamas Paradise Cruise Line through March 31 and get $200 OFF per cabin ($100 off per person), plus five free drinks, free cabin upgrade, and $25 onboard credit. The Cruise Line also has four- and six-night getaway packages that combine a fun two-night cruise with a luxurious resort stay in Grand Bahama. Four beachside resorts have special promotional discounts through December 23 (so book now!) The resorts are Viva Wyndham Fortuna Beach, Pelican Bay Hotel at Lucaya, Lighthouse Pointe at Grand Lucayan and Flamingo Bay Hotel & Marina.
https://www.bahamas.com/freeport-winter-sale?
NEWLY OPENED AND COMING SOON
Teleport to "Old Vegas" at The Count Room Live, a speakeasy inside Bugsy & Meyer's Steakhouse at the Flamingo Las Vegas. Live performances Friday and Saturday evenings. Now open, the speakeasy also offers an exclusive Build-Your-Own Old Fashioned beverage cart experience presented by a skilled mixologist. Guests can choose a spirit, citrus, syrup, and bitters to create an old fashioned to their taste. Try something different like a smoked old fashioned featuring Ron Flor de Caña 7-Year Rum. Signature dishes include the coconut shrimp with coconut sambal and Thai basil honeydew slaw. I'd go for the Heirloom Beet & Squash Salad, created with honey yogurt goat cheese, candied pecans and toasted pumpkin seeds. Then again, the Single Barrel Dessert with date cake, caramel mousse, toasted pecan vanilla gelato topped off with warm salted caramel whiskey sounds like a decadent treat. The restaurant offers six unique experiences – the patio and lounge, the centerpiece bar, private dining in one of three private dining rooms perfect for groups, the raw bar, the ornate dining room, and the hidden speakeasy.
www.caesars.com/countroomlive
Forget the gym. Venture out to the wide-open spaces of wellness and spa-centric ranches. Gene Kilgore, an expert on ranch vacations, has launched a website dedicated to spa and wellness ranches that celebrate a growing trend focused on Mind, Body, and Spirit getaways. Kilgore's new website , www.wellnessranches.com, shines the spotlight on 11 North American ranches in Arizona, British Columbia, Colorado, New Mexico, Oregon, Montana, and Wyoming that meld traditional ranches activities with wellness and spa-focused offerings. The site is organized into these categories: Spas https://wellnessranches.com/wellness-ranches-with-spas; Meditation https://wellnessranches.com/ranch-vacations-with-meditation-and-mindfulness; Massage https://wellnessranches.com/massage-ranch-vacations; and Yoga https://wellnessranches.com/yoga-ranch-vacations. Additional services on the website include an availability form to match a client's wishes to the ranch ((budget, dates of stay, party details, and preferred location). A personalized no-charge concierge service aids people who need extra help. To use this service, call 707-217-5205 or complete the online form provided. A Travel Advisor Center provides access to the website to professional travel advisors to help them expand their portfolios and business.
https://wellnessranches.com/phenomenon.
Themed restaurants run by celebrity chefs are nothing new to Caesars Entertainment properties, but now comes Chef Martin Yan's first restaurant in Las Vegas, NV. The James Beard Award Winner and public TV star brings his authentic Asian cuisine to the newly rebranded Horseshoe Las Vegas in the third quarter of 2022. M.Y. Asia will feature specialties from China, Japan, Vietnam, and Thailand. Peking Duck, hand-pulled noodles, dim sum, and fresh live seafood anchor the seasonal menu. Designed by PGAL, the reimagined space includes the Lucky Bell Bar (a Yan signature) and a 130-seat dining room. A hand-pulled noodle bar and wok kitchen provides guests a full look into the chef team at work. And check out this novel lure for takeout customers. They'll receive digital carryout lockers, keeping the experience contact free.
www.CaesarsMeansBusiness.com; www.CAESARSFORUM.com; www.caesars.com/corporate
The Skybox Rooftop Bar is new, but so is the 128-room Residence Inn Tampa Wesley Chapel at the Wiregrass Ranch Sports Campus of Pasco County. Also new is what's on the evolving menu. New dishes include Bavarian pretzel rolls with beer cheese; the "Tampa Classico" chopped romaine and iceberg salad with salami, ham, Swiss cheese, tomatoes, green olives and garlic oregano vinaigrette; a BBQ pulled pork wrap with tangy BBQ sauce; and a roasted vegetable wrap with zucchini, squash, pepper, onions, tomatoes, black bean spread, and honey white balsamic vinaigrette.
Rain or snow won't delay this golf game. Introducing Game Time Events' latest edition to their portable game offerings: LED Mini Golf. The St. Petersburg, FL company has a wide variety of portable games for fun, team building, or just for encouraging interaction.
U.S. NEWS & WORLD REPORT RANKS BEST HOTELS
More than 35,000 hotels and resorts across the USA, Canada, Mexico, Bermuda, and the Caribbean were examined for U.S. News & World's Report of the Best Hotels for 2022. "The travel industry has faced many disruptions over the past two years, highlighting the need to support and recognize hotels that continue to maintain excellent standards," said Zach Watson, senior travel editor at U.S. News. "The 2022 Best Hotels rankings offer a dependable guide for travelers to use when organizing their next trip, whether that's in a few weeks or later in the year." Here are some of the highlights. The top hotel in America is The Peninsula Chicago, citing The Peninsula Spa and Shanghai Terrace restaurant as winning assets. Montage Kapalua Bay on Maui (HI) follows at No. 2 and Acqualina Resort & Residences on the Beach in Sunny Isles Beach, FL places third. Fourth is Rancho Valencia Resort and Spa (Santa Fe, CA) and fifth is Hotel Bel-Air (Los Angeles, CA). Travelers seeking fresh air and outdoor activities should consider the Best All-Inclusive Resorts and Best Resorts rankings. For the first time, select qualifying 3.5-star properties have been added to the hotels, resorts and all-inclusive resorts ranking lists in Mexico, Bermuda, and the Caribbean. The ratings methodology combines each hotel's industry awards with its star rating and guest sentiment. Those who enjoy all-inclusive packages should consider Best All-Inclusive Resorts in Mexico and the Caribbean.  "The Best Resorts and Best All-Inclusive Resorts lists offer information on everything from the number of pools and restaurants on-site to the daily activities available and nightly resort fees (if applicable). The easily accessible information allows travelers to fully enjoy these luxurious resorts without spending months planning," said Watson.
Eden Rock in St Barts scored as the Best Hotel in the Caribbean. Jade Mountain in St. Lucia maintains the top spot as the Best All-Inclusive Resort in the Caribbean, thanks to its delicious on-site cuisine and varied meal plan options. Jade Mountain also boasts three-walled "sanctuaries," or guest rooms, which offer 15-foot ceilings, furnishings crafted from tropical wood and sweeping views of the Caribbean Sea and the Pitons. Jade Mountain is followed by Belmond Cap Juluca (Anguilla), Zemi Beach House, LXR Hotels & Resorts (Anguilla), and Eden Roc Cap Cana (Dominican Republic). For the Best Hotels in Mexico and the Best Resorts in Mexico, Montage Los Cabos in Cabo San Lucas takes the top spot, while Grand Velas Los Cabos, known for its stellar customer service, gourmet cuisine and luxurious spa services, is the Best All-Inclusive Resort in Mexico. In second is Esperanza, Auberge Resorts Collection (Cabo San Lucas), followed by Rosewood Mayakoba, Las Ventanas al Paraiso, A Rosewood Resort (San José del Cabo), and One&Only Palmilla (San José del Cabo). The Best Resorts in the USA and Best Resorts in Canada lists feature world-class properties offering everything from skiing trails and mountain hikes to family-friendly water parks and pools. Rosewood Hotel Georgia in Vancouver earns recognition as the Best Hotel in Canada, followed by The Ritz-Carlton Montréal (Montréal), Fairmont Pacific Rim (Vancouver), Auberge Saint-Antoine (Old Quebec City), and Fogo Island Inn (Fogo Island). In Bermuda, the top spot goes to Rosewood Bermuda. It's followed by Hamilton Princess Hotel & Beach Club, Royal Palms Hotel, Fairmont Southampton, and Cambridge Beaches Resort & Spa. Le Bristol Paris (Paris, France) once again came in as the No. 1 Best Hotel in Europe and is celebrated by guests for its Parisian-style elegance and the staff's meticulous attention to detail. That hotel is followed by La Réserve Paris – Hotel and Spa (Paris, France), The Milestone Hotel & Residences (Kensington, London, UK), Ashford Castle (Cong, Ireland), and Four Seasons Hotel George V, Paris (Paris, France).
FLORIDA FESTIVALS & EVENTS ASSOCIATION OFFERS TWO SCHOLARSHIPS
Florida Festivals & Events Association (FFEA) is offering scholarships to both Event Management Students and Emerging Industry Leaders to attend the August 23-25 annual conference at the Hyatt Regency Grand Cypress, Orlando, FL. The winners will learn about the variety of careers in the events industry, engage in discussion with industry professionals, and participate in professional development workshops. The Harvey Franklin Campbell Student Scholarship Award is open to current students at Florida-based universities who are studying in an event management related program or have a permanent Florida address while studying out of state at an accredited institution of higher learning at the time of application. An official transcript or degree audit must accompany the application. The winner will receive a one-year student membership in the FFEA. The Emerging Leader Scholarship Award is open to first-time conference attendees who have been employed in the industry for less than three years and have demonstrated a strong desire to positively affect the future of the event planning profession. Deadline to apply online for both is March 19 with winners being announced the week of April 12. See the application forms for full details of requirements.
https://www.ffea.com/p/convention/scholarships/student-scholarship; https://www.ffea.com/p/convention/scholarships/emerging-leader; (407) 203-1334;
FFEA CONFERENCE CALL FOR SPEAKERS
The 28th annual Florida Festivals & Events Association Conference is seeking speakers for its Orlando, FL conference on August 23-25. The audience are event management professionals and industry suppliers from municipalities to non-profits to independent event planners. Successful past topics have included sponsorship recruitment and retention, marketing and social media strategies, event operations and logistics, volunteer management, technology, and professional development. Members attend to improve their careers through professional development and to gain fresh perspectives.
https://ffea.memberclicks.net/2022-speaker-proposals#/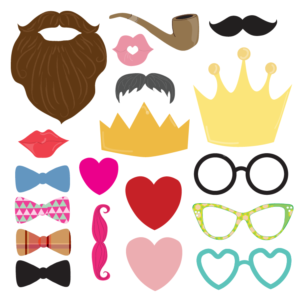 FREE 19-PIECE CLASSIC PHOTO BOOTH PROPS
Pixilated will give you its 19-piece set of printable classic photo booth props for free when you rent a photo booth from the Baltimore, MD company. Each prop will be sized properly for your printer. Once printed, cut out the individual props with scissors and glue each to a stick handle.
www.pixilated.com; (888) 902-0054
HOLIDAY FAMILY FUN
Feb. 22: It's National Margarita Day in Mexico and some of the Pueblo Bonito resorts are serving up their own signature cocktail. For instance, the Pueblo Bonito Rosé offers a strawberry margarita at Fellini's Restaurant, while the Pueblo Bonito Pacifica teases with a serrano margarita at Peninsula Bar. Allegedly, the margarita originated in Tijuana, Mexico in the 1930s. I know the tequila-based cocktail is popular in my family. If there's one thing I've learned, is that no bartender makes it the same as another. In fact, Pueblo Bonito Pacifica (deluxe adults-only oceanfront resort) is making its own Tequila Don Alex, a unique spirit with a chocolate, habanero, cinnamon, raspberry, and coconut flavor profile. I'm lusting for it even as I write those ingredients. To honor National Margarita Day, Quivira Steakhouse features its Cucumber Jalapeno Margarita, a spicy version created by mixologist Eufemio Vega. Pueblo Bonito resorts has generously provided me with the recipe for the Cucumber Jalapeno Margarita. THE FIRST 10 PEOPLE WHO ASK ME FOR THE RECIPE WILL RECEIVE IT PROMPTLY!
https://www.pueblobonito.com/resorts/pacifica
Hundreds of manatees are slowly cruising from the cooler waters of the Gulf of Mexico to the warmer pristine 72-degree springs of the Plantation at Crystal River, FL. Take advantage of the new one-night package to interact with these mammals. The package includes overnight accommodations in a garden view room, a snorkeling tour for two with equipment provided, breakfast for two at West 82⁰ Bar & Grill, and a welcome bag filled with a plush manatee toy, fun facts, and manatee interaction guidelines. All manatee tour boats, which are enclosed, provide hot chocolate and coffee, warming boat coats and towel service. All tour captains are licensed, insured and USCG certified, and each boat is equipped with power poles to limit environmental impact. Upon return from their tour, guests are treated to a hot shower facility and changing rooms for those who already checked out or snorkelers not staying at the resort. High-quality photos and videos are available for purchase after the tour. Prime manatee viewing season usually runs through March 31.
https://www.plantationoncrystalriver.com/; (800) 632-6262.
Karen Kuzsel is a writer-editor based in the Orlando area who specializes in the hospitality, entertainment, meetings & events industries.  She is an active member of International Live Events Association, Meeting Professionals International and the Society of Professional Journalists. She is now serving on the 20121-2022 MPI Independent and Small Business Owners Advisory Board. Karen writes about food & wine, spas, destinations, venues, meetings & events. A career journalist, she has owned magazines, written for newspapers, trade publications, radio and TV. As her alter-ego, Natasha, The Psychic Lady, she is a featured entertainer for corporate and social events. Karen@KarenKuzsel.com; www.karenkuzsel.com; www.ThePsychicLady.com; @karenkuzsel; @thepsychiclady.